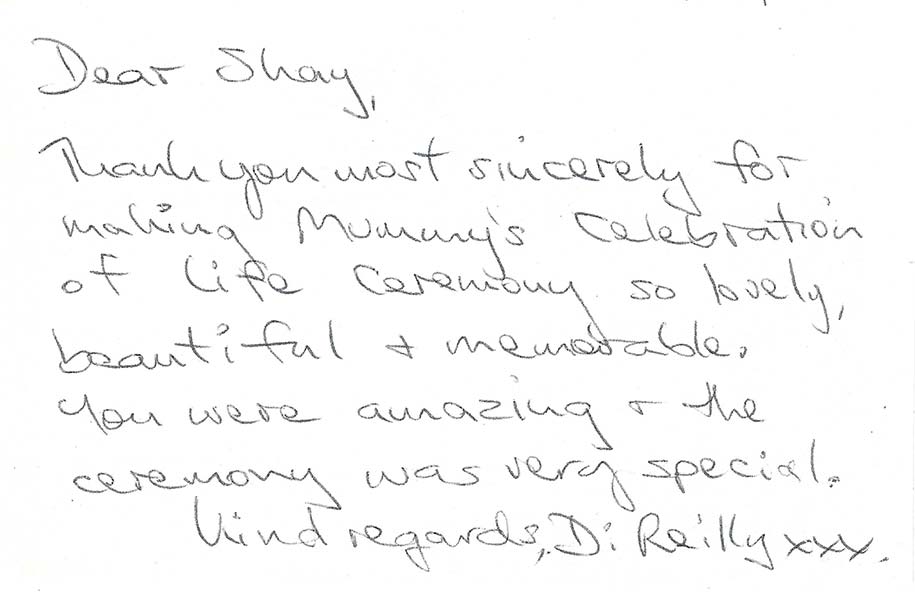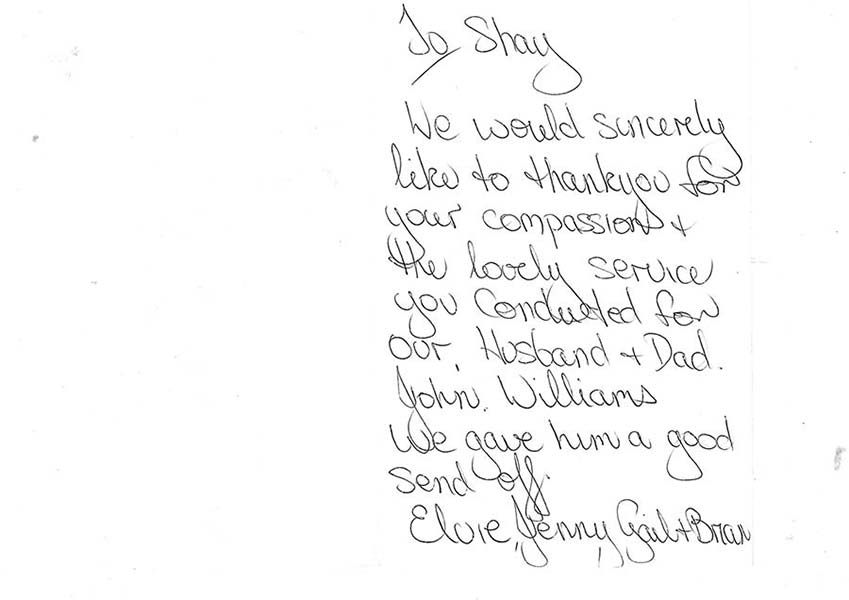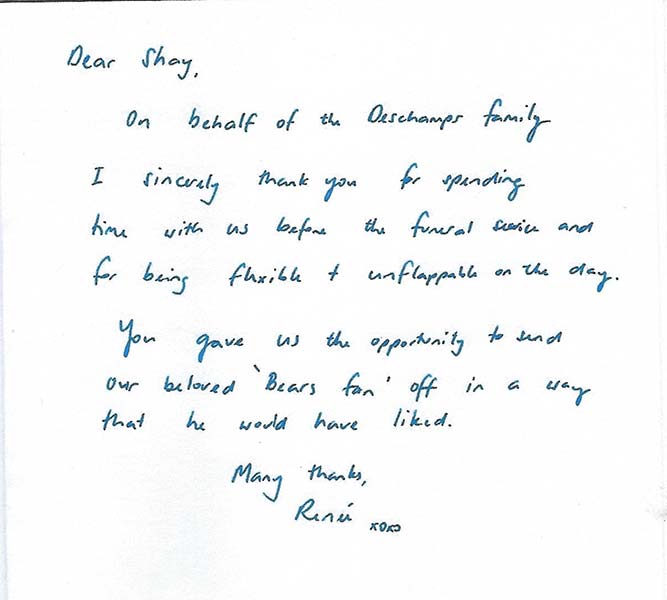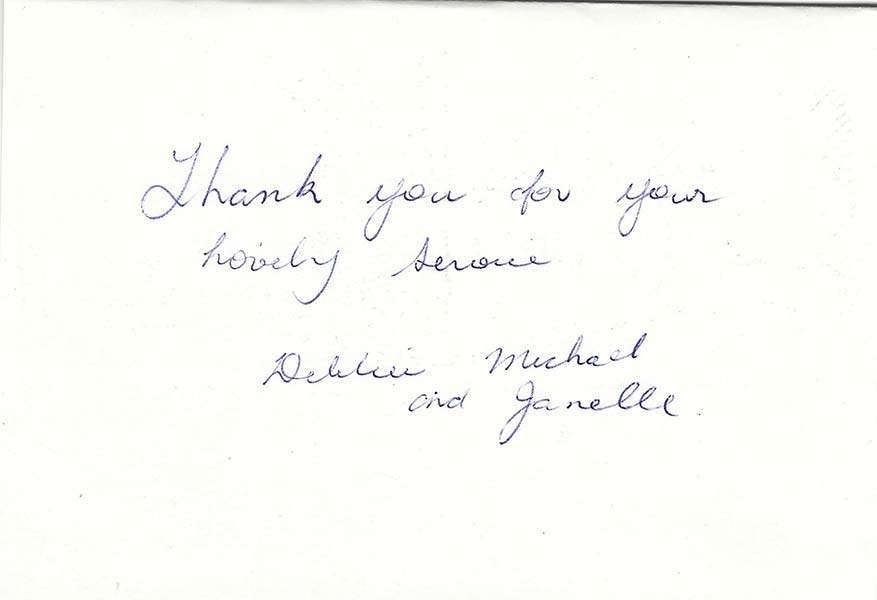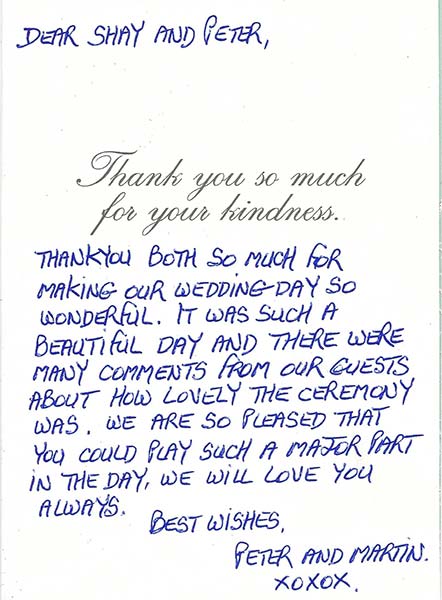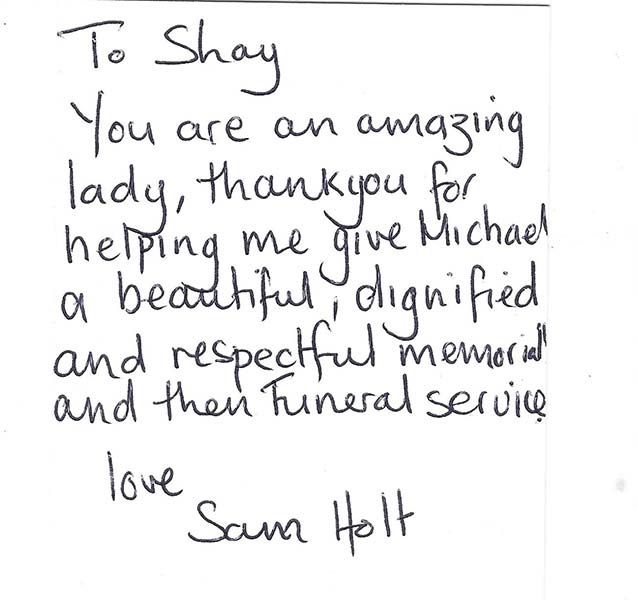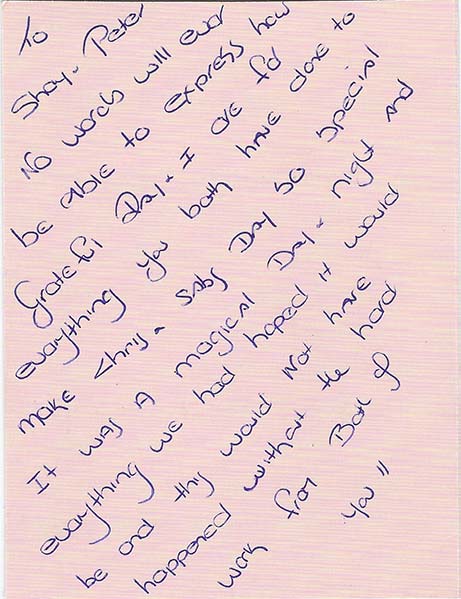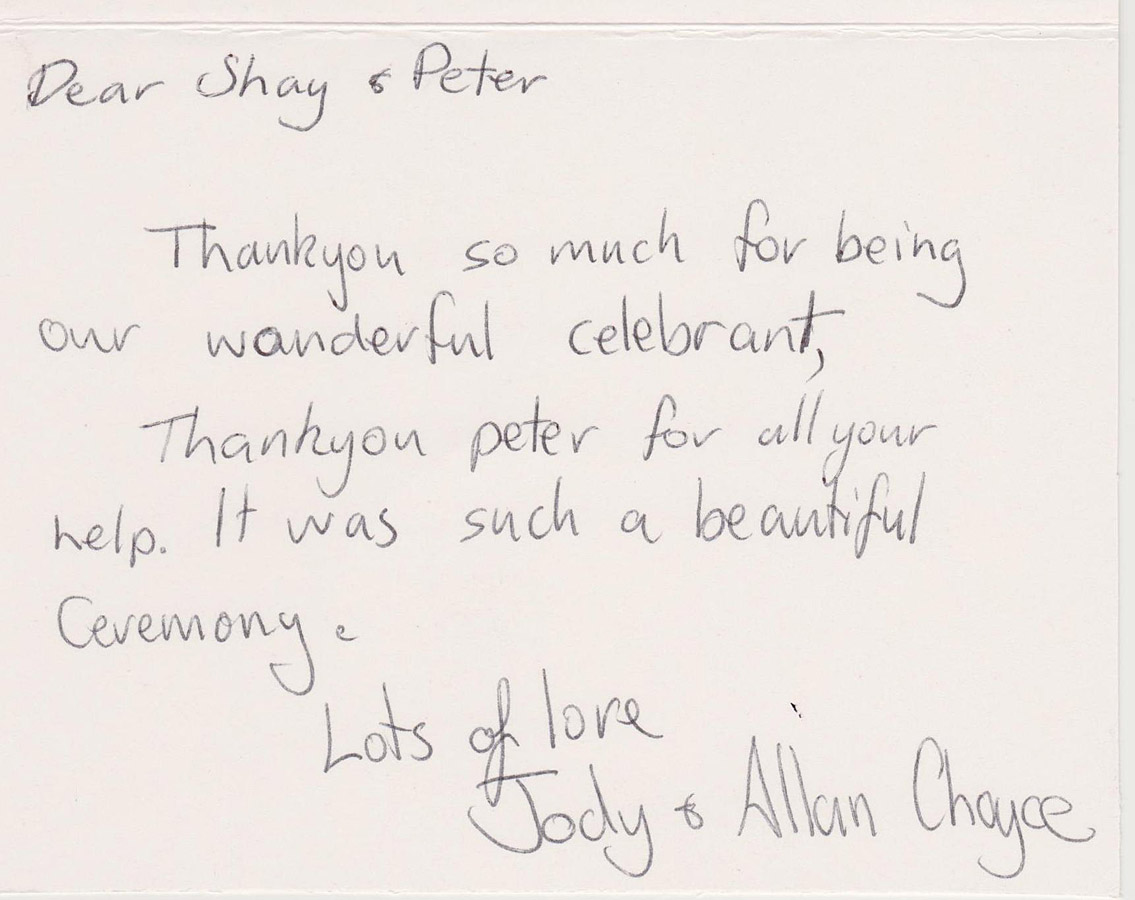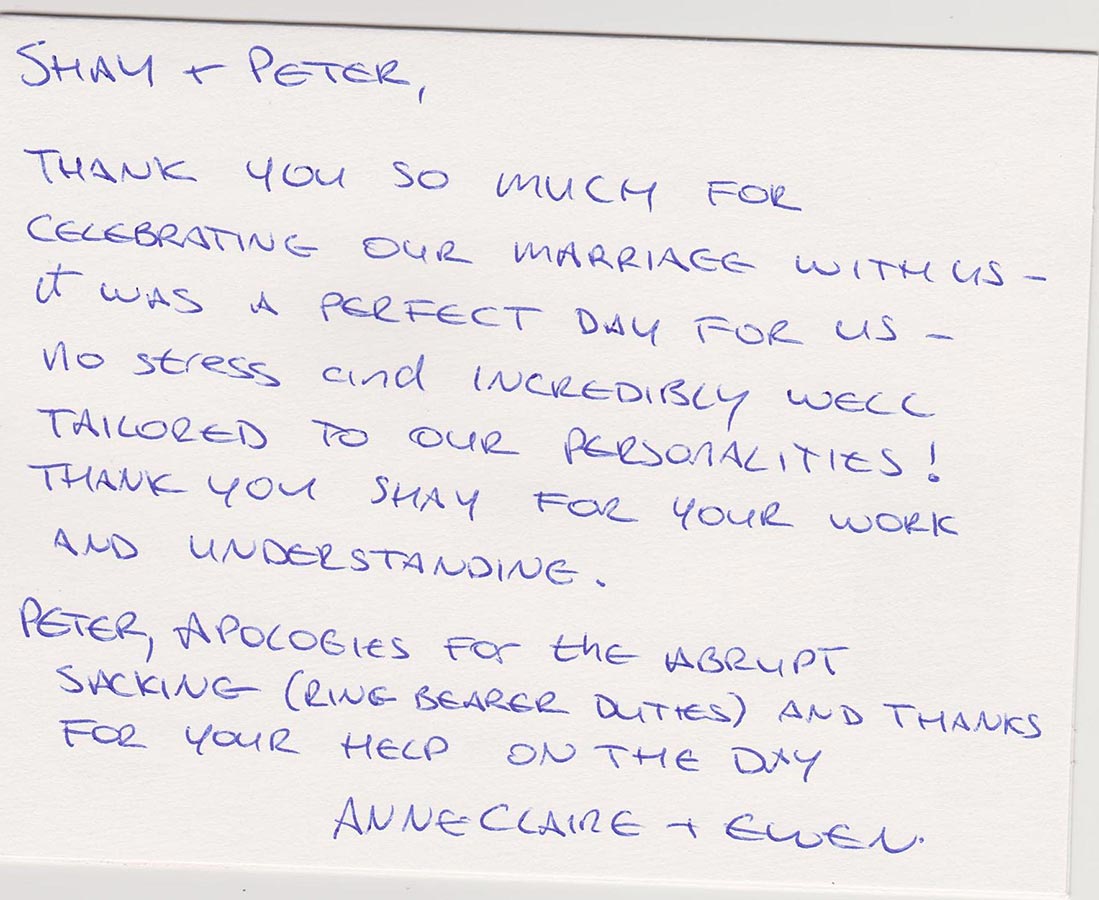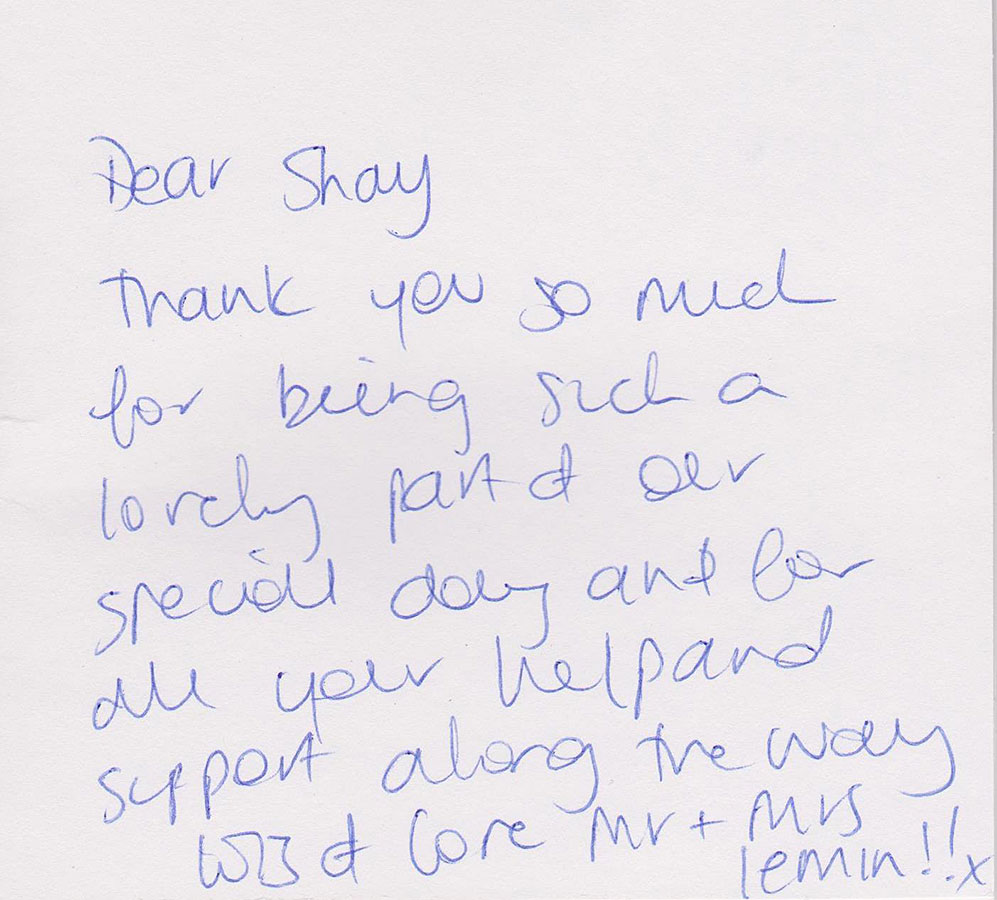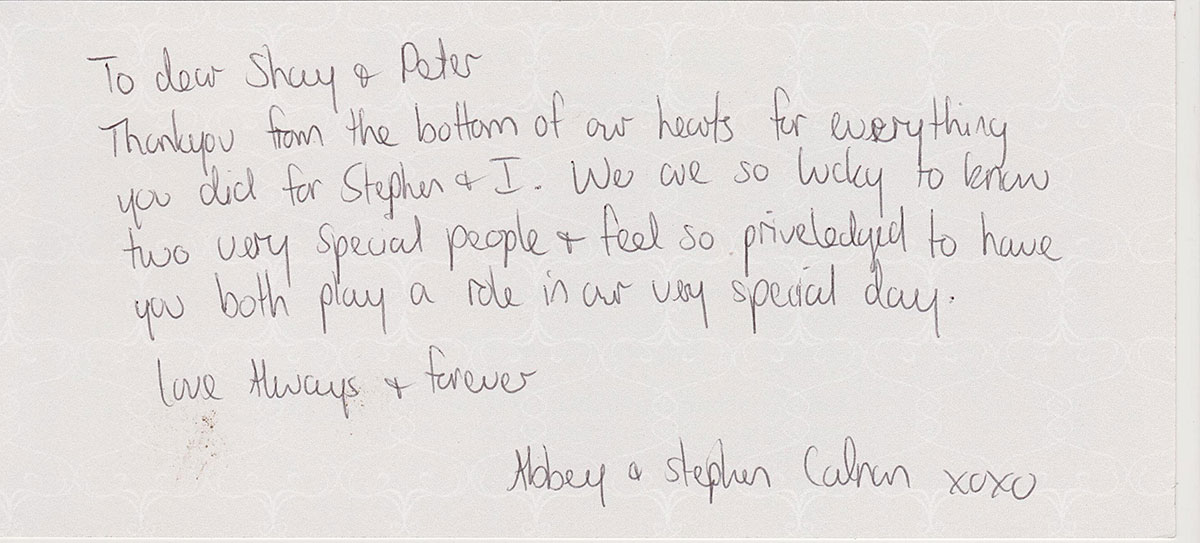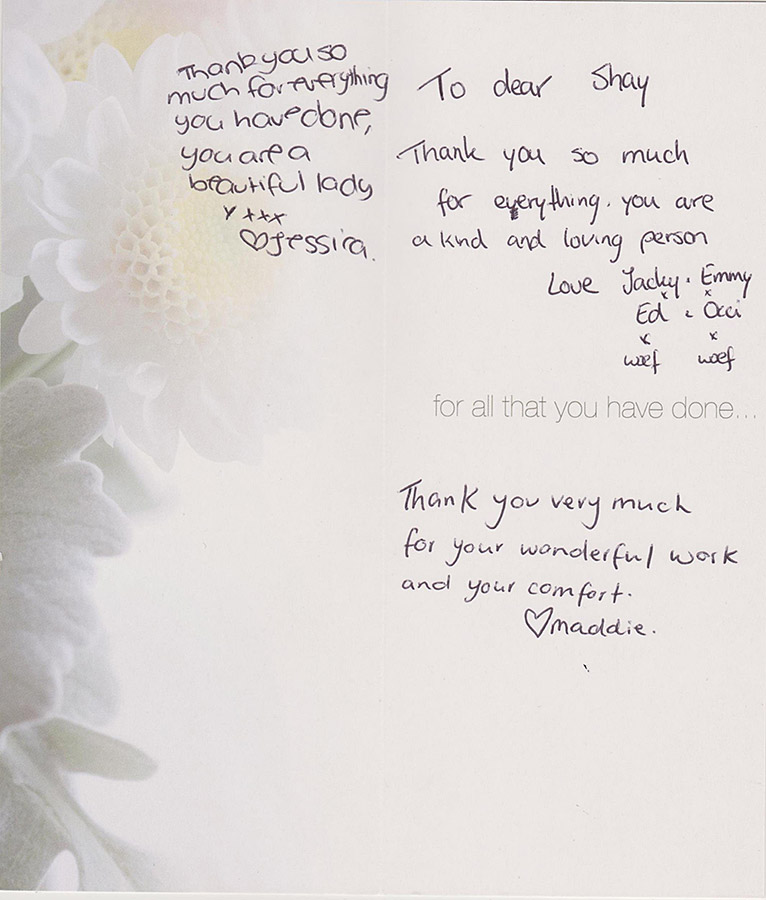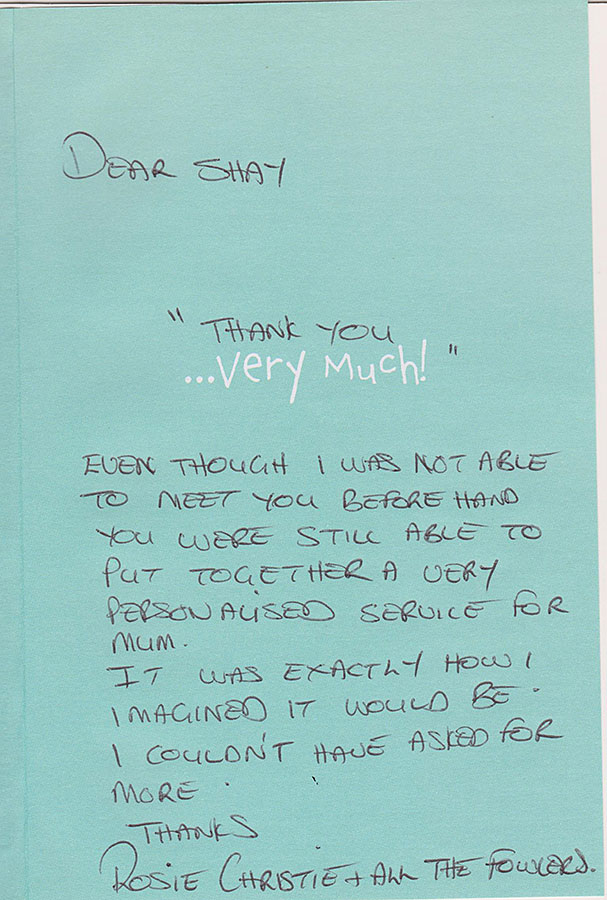 Hi Shay
Thank you for such a lovely service.
Simple and elegant just as mum would have wanted and dad was very happy with it.
Thanks
Russell
Hi Shay
Again many thanks for yesterday. I'm sure that mum would have enjoyed it!!!!!
Once I've persuaded David to ask the right questions I'll get back to you re a happier occasion!!
Cheers
Patsy
Hi Shay,
Thank you so much for all that you have done. Thank you for the kind, thoughtful and compassionate way in which you prepared and delivered the service.
May your own life, and that of your family, be blessed and filled with love and laughter.
Kind regards,
Karen
Good morning Shay and Peter,
I would just like to say thank you both for Saturday from the family. Everybody loved mums celebration & we couldn't of done it with out you. Lots of love Tanya xx 

Hi Shay this is Adam here u did the service last Friday for my father John. I'm just wanting to thank u so much for everything. U did a wonderful job and it was just as dad would've wanted it. It was a wonderful send off. Thanks so much for the time and effort u put into knowing and understanding him. It was a day I will never forget. Many thanks 😊
Morning Shay, Thank you again for the lovely service for John.
We were all very impressed by just how beautiful, serene and comforting a small gathering could be made to feel.
Thank you Shay. 
Regards Raymonde

Hi Shay,
Thank you again on presenting a beautiful service for my mother on Monday. She would have loved it.
We could not have asked for a better ceremony. You are exceptional at what you do. Thank you again.
Kind regards
Judy
Dear Shay. Please accept our family's thanks for assisting us in the celebration of Bernie's life. Although you had never met you made an effort to find out about the man he was and we are grateful to you for that. I have had such positive feedback about "a nice funeral" (if a funeral can be nice).
Regards and once again thanks
Ruth, Narelle, Rachael and Dan
Dear Shay,
Thank you so much for the wonderful poems which I received so promptly from you yesterday. I am delighted to have them as I so enjoyed your delivery of The Farmers Wife at Hilary's service. The second one is amazingly accurate and so amusing at the same time.
You conducted the service beautifully and we appreciated the sincerity and simplicity of it. No doubt Hilary led a very full and useful life and she would have been very happy to see the celebration of it yesterday.
I hope that you are able to continue your excellent and caring work and once again thank you.
With warm regards,
Nanette.
Hi Shay,
We just wanted to say thank you so much for the wonderful Naming Ceremony you did for Caleb. It was all we wanted and more. We will definitely be recommending you to all our friends.
Halley and Matt (and little Caleb of course)
Thank you so much Shay for such a great wedding. You made everything very special in tough conditions. You really are the ultimate professional 😉 Peter's excellent sense of humour really took the edge off things, you're a great team.
Keep in touch.
Dan and Andrea
Shay,
Thank you so much for performing such a beautiful ceremony for us both on Thursday. All Marion's family and the two of us, now have very special memories that will live with us forever.
Once again thank you Shay from our hearts.
Love, Lyn & Marion xx

Good Morning Shay, I would like to thank you again for the service. You did an excellent job, even with minimum contact. Regards Vicki

Dear Shay,
Firstly let me commend you on a beautiful service well done and befitting of a beautiful man.
Timothy has been greatly affected by the passing of his pop (who was his last remaining relative apart from two brothers) and I know that the service meant so very much to him.
The opportunity to speak was a privilege even though he wasn't prepared for it, as he was able to let people know a few stories of Reginald's life and about his daughter and son that was obviously unknown. Thank you for giving the opportunity as I know his mother, had she been still living would have been there and spoken herself and is no doubt very proud of her son.
Thankfully,
Amy Ribaux & Timothy
Hi Shay,
Thankyou for a lovely service for my Grandma.
Kind regards, Jessica
Hello Shay
I didn't get to see you before you left yesterday but I just wanted to thank you very much for the lovely service that you did for Dad. We all feel it was just perfect. You made this process so much easier with your caring ways and beautiful words. We really can't thank you enough.
Again thank you from us all.
Take care.
Regards Debbie, Jenny and Ollie 
Hi Shay,
Thank you so much for the beautiful service you conducted, it was perfect. I'm so glad we met. 
Kind regards, 
Blaise 
Traill and I, would like to thank you for the kindness, and care, you extended toward us, at my mother's funeral, last Friday. You helped us in making the service as personal as it could be.
All funerals are sad affairs, however the details we requested, to be carried out during the service, with your help, were carried out to perfection.
A few of my mother's friends have phoned me, and told me how personal they thought, everything was.
Once again, thank you.   
Rae and Traill
Hello Shay
There is no way I can express the gratitude to you for getting the service for Dad exactly right.  I was a bit worried because you never know if a person who didn't know Dad could get it right.  But you did get it right and it was perfect and it was lovely.  I thank you so much for that. Thanks again Shay for everything, it was one of the most important times in our lives and I won't forget your part in it.
I do think of you and will always be grateful for the lovely send off for Dad.  Take good care and maybe our paths will cross again – but hopefully not at a funeral!!
Kind Regards
Leeanne
Thanks very much Shay
Thanks so much for spending the time you did with us to better understand Dad and Mum and family and plan a service to that is befitting of Dad. Mum said she feels so much more relaxed since meeting with you.
Just a last Thank you for the capable, befitting and thoughtful way you led Dad's funeral service yesterday.
The poem was so well chosen and took me back to our times in Barcaldine and Roma.
Kind Regards
Helen
Hi Shay
Many thanks for the wonderful service you conducted last Monday at the funeral of my father.
It was great to meet you and we all appreciated your efforts to ensure Dad had a lovely celebration of his life.
Thank you and take care
Helen